Every so often some of the conversations on my Facebook page become quite comical. Recently I posted a question that left me in stitches. I compiled the answers for you to spend a few moments laughing as well. Enjoy this compilation of quotes from teachers all over the world!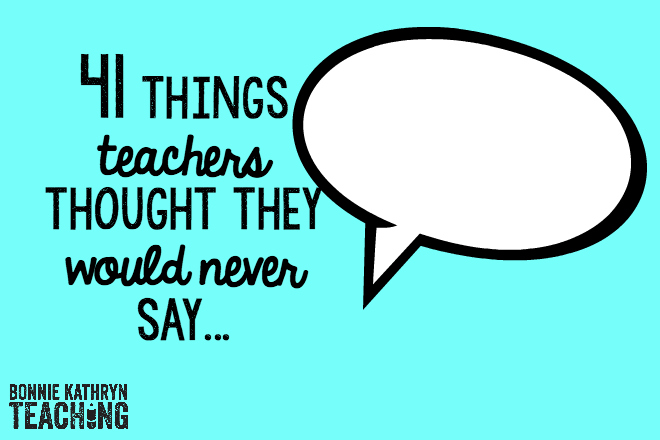 What are some things you thought you would never say as a teacher?
"Please do not drink the watercolors." – Jennifer
"Your echolocation is not broken, you are not a bat you don't have echolocation. Stop running into the wall and yelling 'my echolocation is broken.'" – Danielle
"No, I cannot marry you." – Kay
"Please take your head out from under my dress…" – Meghan
"Stop licking the window." – Jennifer
"Do you need to go poop? You're tooting a lot and it smells horrible…" – Shannon
"Ew! Don't lick the potty!" – Christina
"We don't pick our friends' noses for them, even if they told you to do it!" – Tricia
"No, I'm sorry you cannot be an octopus today." – Chelsea
"That is not Chapstick. That is our glue. Please stop putting it on your lips." – Holli
"Your string cheese is not a light saber." – Melissa
"What do you mean you have a tiny NFL football stuck up your nose?" – Lee
"We don't chew on scissors." – Jennifer
"Please keep your tongue out of your nose." – Cathy
"Do not eat the Crayons. Yes, they are nontoxic but let's not test the theory." – Julie
"Stop sucking on the wall." – Jenny
"You brought a real live 'dead' fish?" – Chelsie
"Please stop drinking from the toilet!" – Christina
"We don't pee on the playground." – Robin
"Is this poop or a smashed raisin in the floor? (Answer: it was poop)" – Alicia
"I'm so proud of you for buckling your belt…but now go back in the bathroom and put your pants on!" – Madison
"We are not making valentines for the vegetarians, it's the Veterans we are making them for." – Jennifer
"Your teeth itch? Hmmm ok just get a drink." – Nikkee
"We don't have to get all the way naked to poop…our socks have nothing to do with that area of pottying. " – Amanda
"I am not a tree; you are not a woodpecker, so please stop tapping on me." – Katy
"Please, do not come out of the bathroom licking your hands." – Laura
"Are you doing the pee-pee dance?" – Christy
"Are you gluing your hair back on your head with a glue stick?" – Lee
"We do not growl in school. We are human beings not animals and we do not growl." – Jessi
"Do not glue paper to your body! That includes your skin, your clothes, and your shoes!" – Amy
"Did you really just put glue in your dear teacher's hair?!" Student response: "Well a couple of hairs were sticking out! I fixed it for you…aren't you so happy?" – Jill
"Zombies can't get you at the cubbies." – Keith
"Well if it wasn't your underwear you flushed down the toilet, whose was it?!" – Dana
"Please go back to the bathroom and give each other back your pants. You need to leave school in the same pair of pants you showed up in." – Melissa
"No, your last name is not 'Lil Daddy.'" – Ashley
"No, you cannot wrap string around your finger to make it turn purple; that is not cool." – Kay
"Stay calm and evacuate the room. I'll get Mr. Weeks to find the snake." – Carol
"If you try to stick your finger in the fan again and it comes off we get to call you 'Stumpy' the rest of the year." Problem solved. – Carissa
Back in the day when we had a dramatic play area in the classroom: "Please get down off of the table in the kitchen. No one will 'give birth' in our dramatic play area or anywhere here at school." – Shelley
"Stop that. You need to sing the song. Do you even know what they are singing? You can't do the 'Nay Nay' to every song you hear." – Jeremy
"Sorry, but you cannot start a twerking club at school." – Jessica
Do you use any of these quotes? What other things do you say that are quite out of the ordinary in your classroom?