Over the past year, I have felt like morning work was not always the best fit for the needs of my classroom. While I think morning work can be a great review of skills in the classroom, I had trouble feeling like I was just filling a few minutes that I needed to get lunch count in, wait for tardy students, check daily folders.
My problem was I had early fast finishers and SLOW finishers. The fast finishers, I would let them look at my display books for the month. The ones that took a longer period of time would slowly start to eat into our daily schedule. Not to mention, by this point I have been interrupted by 5 friends.
I digress.
My solution? Morning Tubs.
These tubs are filled with academic activities that I will rotate out once a month. Right now, at the beginning of the school year, I have lots of fine motor activities. Some of the tubs I can easily modify for the needs of my students at different points in the year.
I have 12 tubs. Each table gets a new tub every morning. The only rule is that they are to use the activities until I say it is time to clean up. Some of the tubs have directions that I explained. Some of the tubs are open however the kids want to use them. Right now I am mainly focusing on fine motor skills.
Okay. Let's get to the pictures.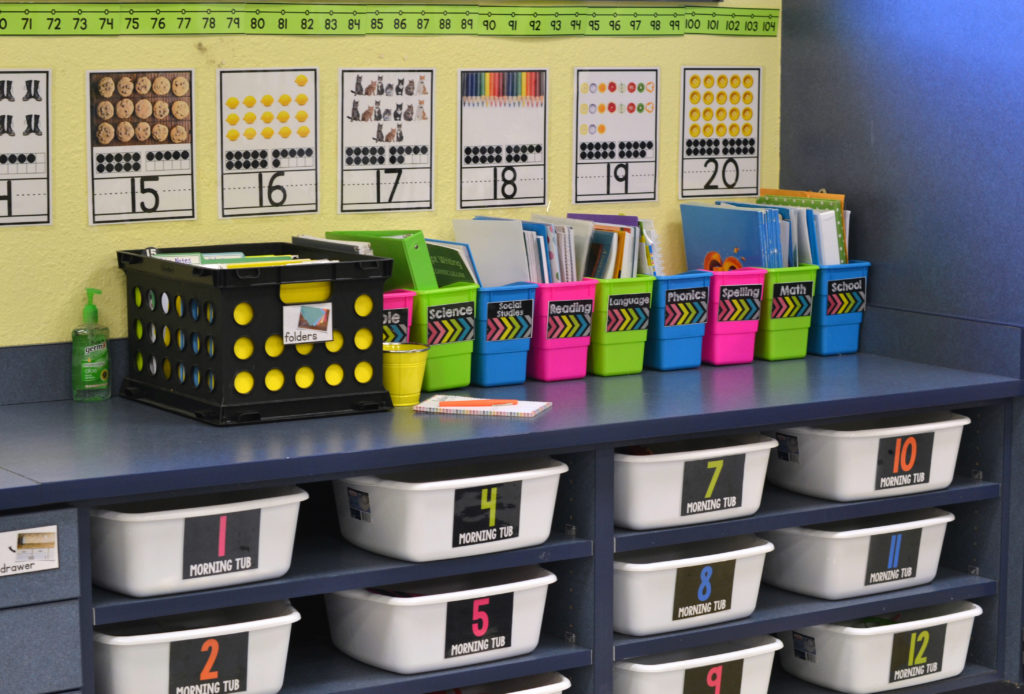 The activities are in bins labeled with numbers. I pull out four bins each day and give to each of my four tables. I keep up with what table gets what bin each day, so I don't double up on a certain bin. Trust me you will want to WRITE THIS DOWN. I learned the hard way. You can get bins like mine here.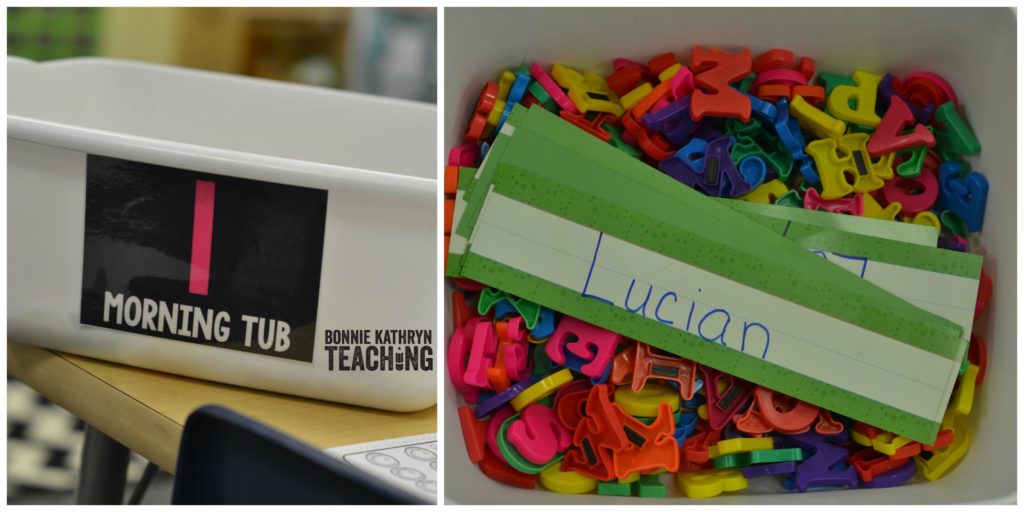 This first bin is pretty simple. The kids use magnet letters to build the names in our classroom. These will build to CVC words and sight words later in the year.

I found the dry erase cube at Dollar tree along with the tweezers and beads. Kids roll the dice and use the tweezers to pick that many beads out.
The next box show snap cube alphabet letters that I got from Simply Kinder. Love them. I love how the kids use puzzle skills to help them build letters. They like to compete and see who can build more letters before our morning tub time is over.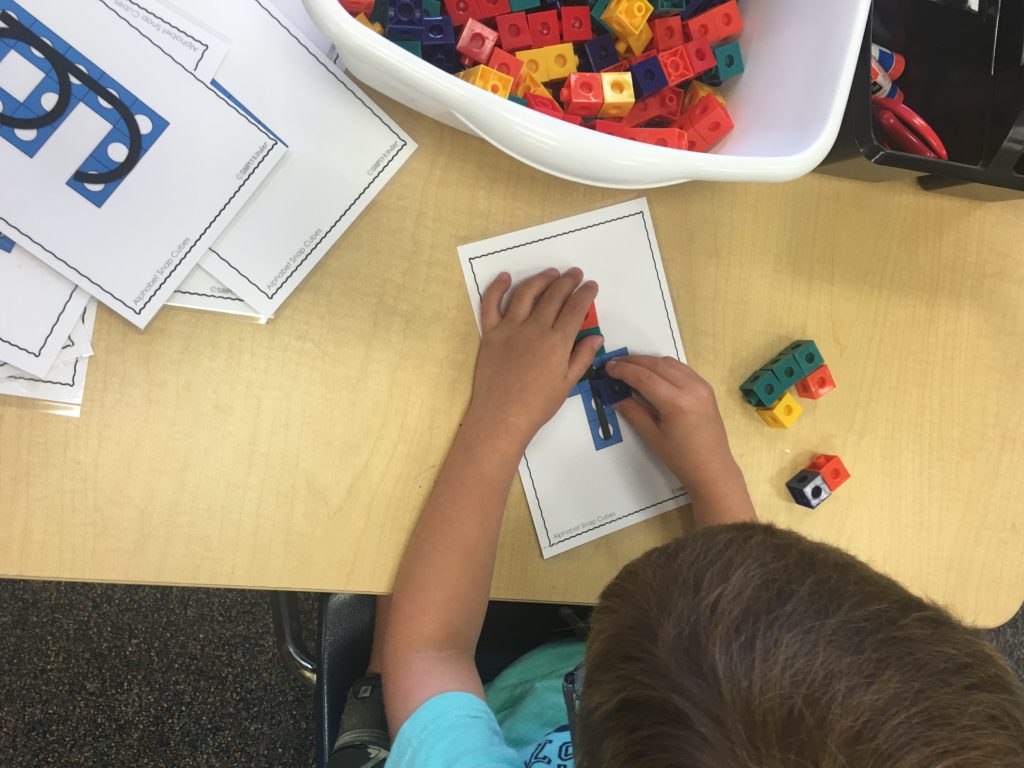 The last box shows different types of grabbers that kids use to sort color puff balls. The kids have made up several games on their own with this tub.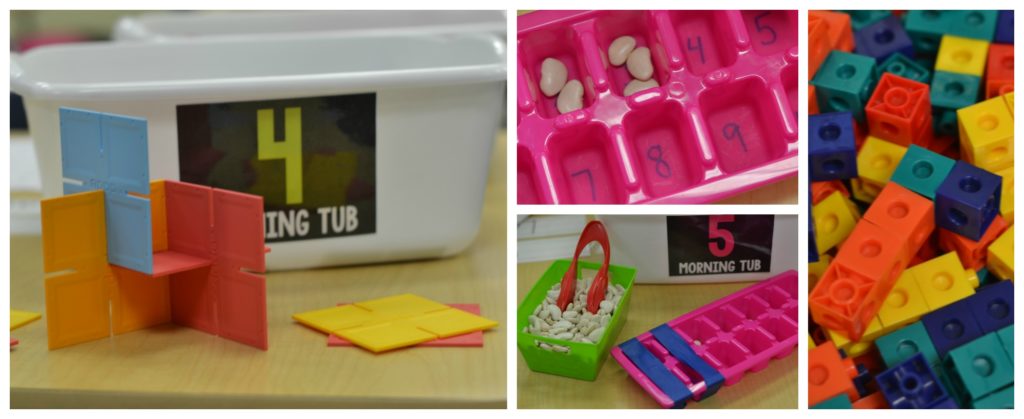 The Dado blocks came from Reynolds. These are great for fine motor skills. They have to match the squares up to connect them. This box is a favorite of my kindergarten kids.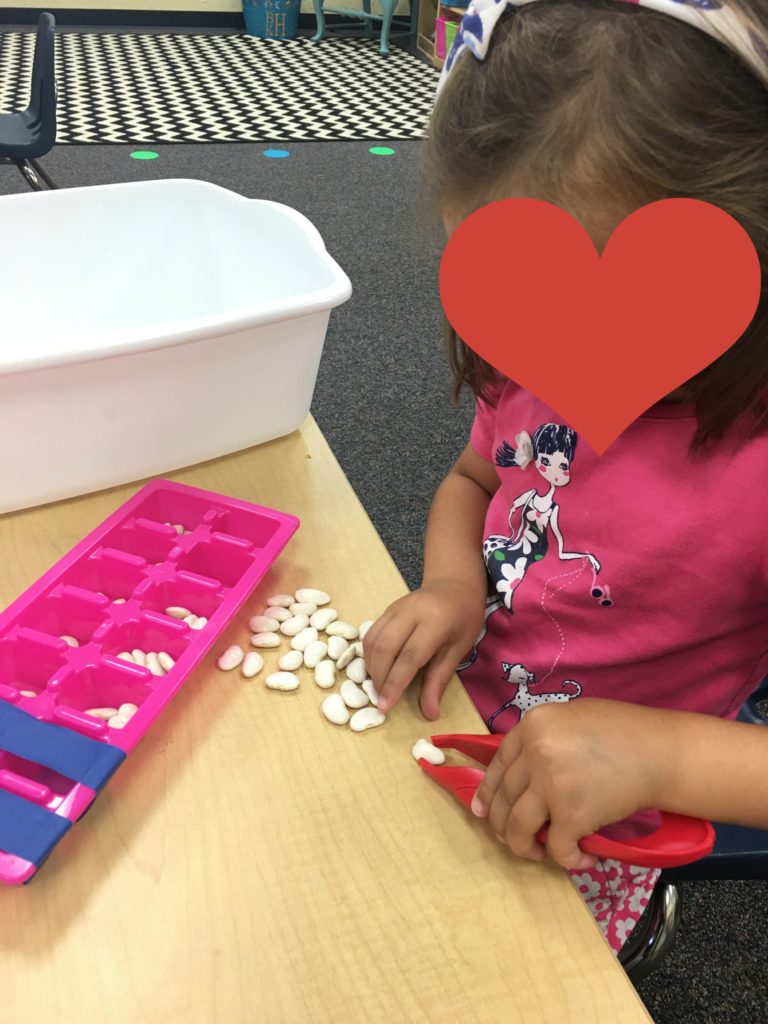 The next activity is an ice cube sorting activity. Each ice cube tray is labeled with numbers 1-10 (like a ten frame). The kids have to count out that many beans and use the tweezers to fill the ice cube tray.
I also have a bin with just snap cubes that the kids can use to build. This is one of those bins that are not any rules for the game. However, I have noticed them making up games. For example, one little girl says "I have 22 cubes. Can you match my cubes?" The little boy says "We have a match!"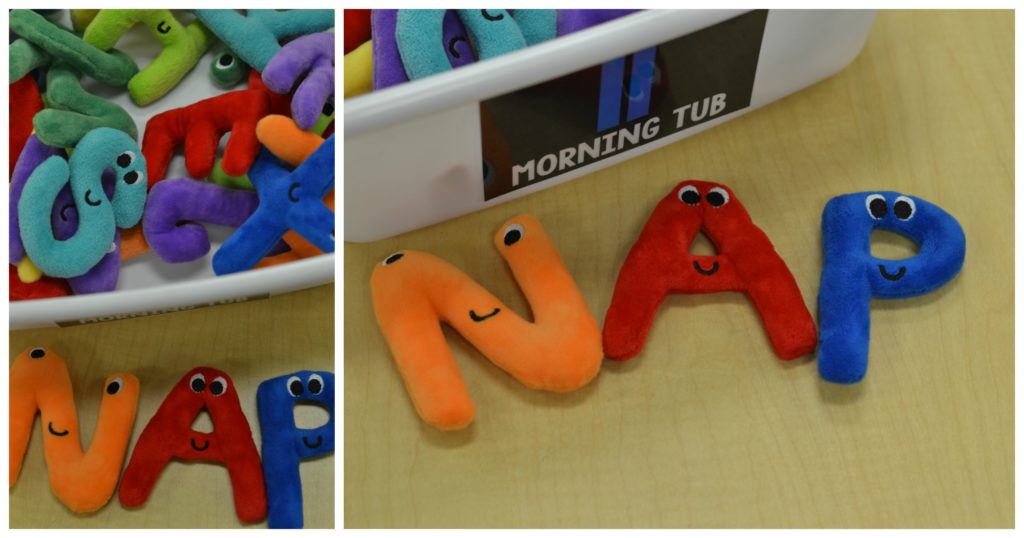 I love the plush alphabet letters from  My Early Learning Box. This was one of the tubs that I did not give any rules to the activity. It was interesting to see how the kids interacted with the plush alphabet letters. Some of them used our Letterland character names and would tell the Letterland stories for the corresponding letters.
I also had students that used them to put the letters in alphabetical order. Later in the year, I am going to have them use the letters to spell out CVC and long vowel words and write them on a recording sheet.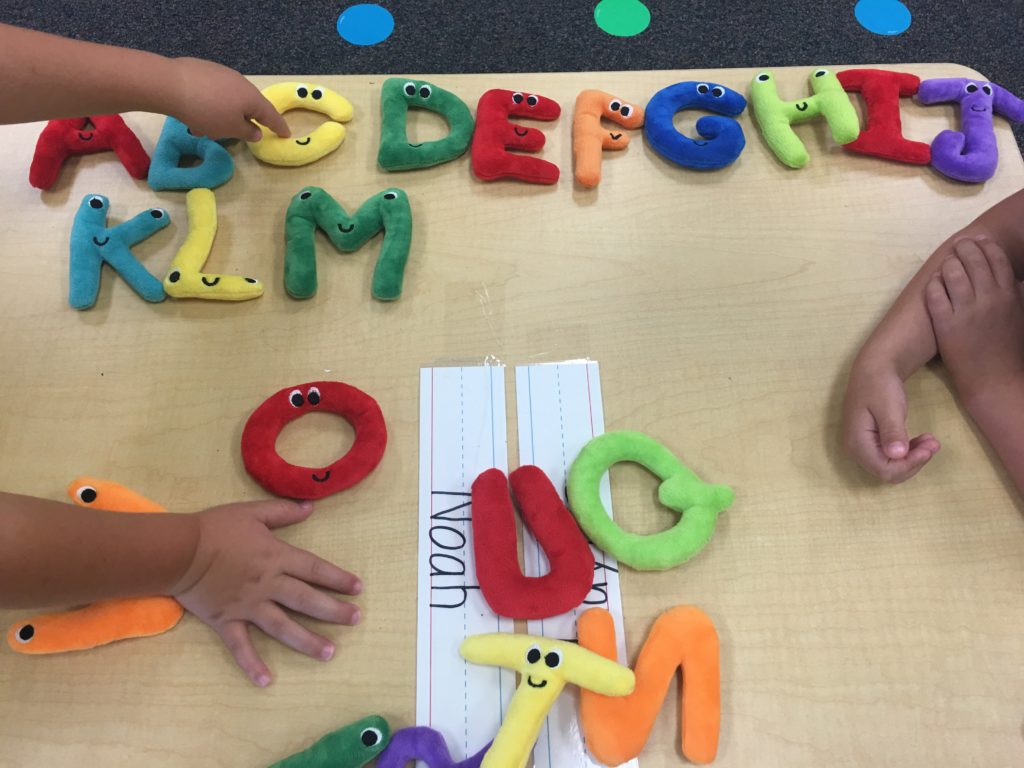 Outside of the morning tub, I am using the letters for whole group instruction. I have kids "become" the letters. I give them a series of letter sounds and they have to put them in order. For example, I say "m" "p" "a", The students then line up holding M-P-A. Soon I will play this same game with CVC words. This helps to build phonemic awareness.
I was excited when John from My Early Learning Box messaged me and told me that he wanted to give my readers a $10 discount if you use my code BONNIEKATHRYN. Score! I have used these letters in multiple ways in the classroom. I think you will love them!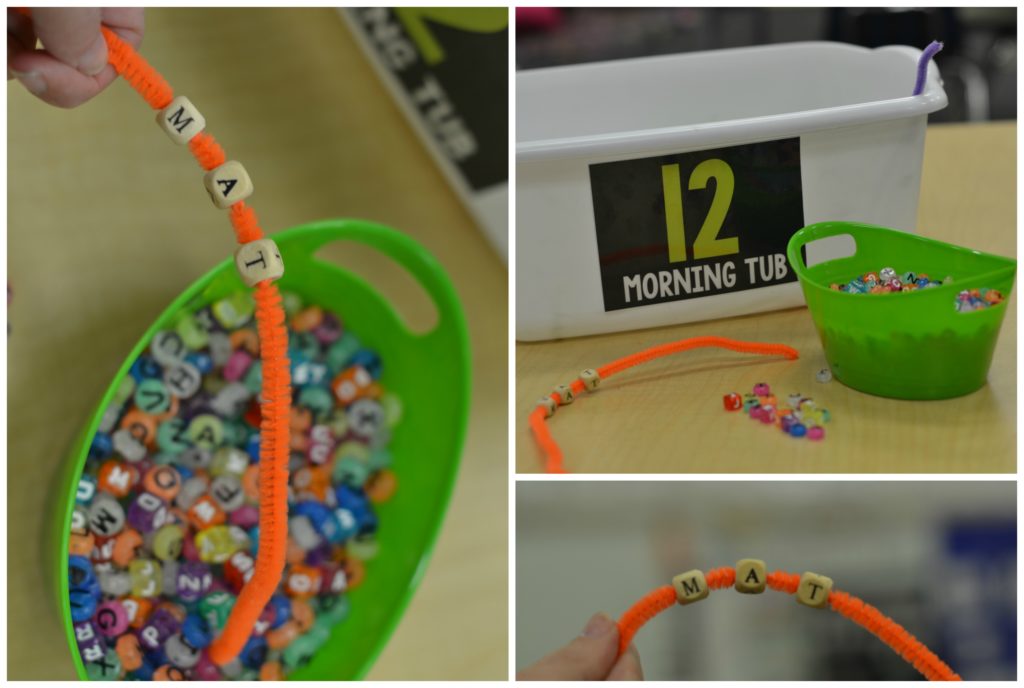 Right now my kids are using this tub to build their name on the pipe cleaners. However, you can really modify this tub all year long. It is great for fine motor skills as they thread the little letter beads on the pipe cleaner.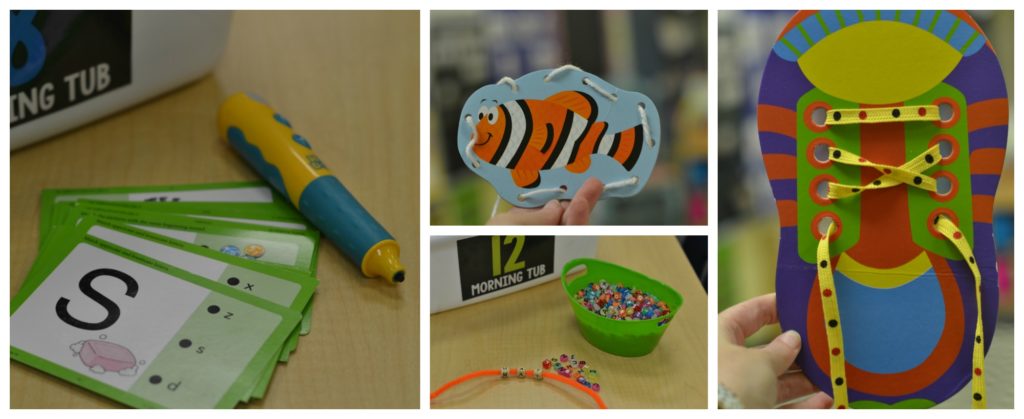 Hot dots are a favorite of the kids. I discovered that if you purchase the hot dot cards from Amazon they are much cheaper! I like how I can just easily change out the hot dot activities throughout the year. That makes it simple for me! 😉
The lacing activities came from the Dollar Tree this summer. I am really impressed with the items the local Dollar Tree is offering for teachers this year. In fact, most of my morning tub items came from the Dollar Tree. That really helps my teacher budget!
I was a little nervous to start using morning tubs, but the past couple of weeks have wiped away all of my concerns. The kids love it. I love it. It gives me freedom to quickly get our lunch count and attendance turned in for the day. The kids quickly unpack and are excited to get to their table. I am starting our school day much quicker.
Are you using morning tubs? How do you manage them?
Have a great day!
Bonnie Kathryn
This post contains affiliate links.