I recently read an article that stated Calendar Time is not appropriate for children under the age of 6.  I completely disagree with this statement.  I believe Calendar Time is a crucial part in my kindergarten classroom. I honestly can never picture myself not doing calendar time.  It not only starts the day in a positive and structured manner but it also offers an opportunity to reinforce so many of the standards that I have taught or are currently teaching.
Here are the 6 main components of calendar time that allow me to maximize my instruction time during this time.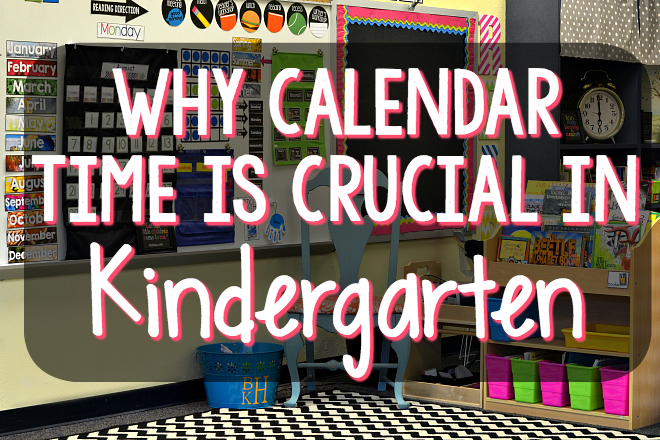 Morning Greeting
You all have seen that quote about being the first smile or hug your student has received that day, quite possibly several days.  Well, that is exactly why I feel this is an important component in calendar time. It is a great time to greet your students individually and as a group and just let them know you are happy they are there.  It doesn't have to be long maybe you use a note, a song or a poem.  Maybe you give hugs or high fives. Or maybe you let a few students share what is on their heart. No matter what you decide best fits your classrooms needs it will for sure start your day with a positive vibe.
Yesterday, Today, and Tomorrow
Some people believe that this concept is too hard for kindergarten students. I disagree. I spend just a few minutes talking about the date.  I include talking about what day yesterday was and what day tomorrow is.  Depending on the time of year I will definitely spend some time talking about what each of these means.  We discuss how we know it is a new day, what we did yesterday, what we will plan to do today and what we might be doing tomorrow.  As the year goes on, this part uses less time as my students show the understanding of these important terms.  I include the seasons and the weather in this discussion as well.
DON'T DO THIS:
What was yesterday? crickets chirping
TRY THIS:
Kindergarten, I am thinking of a day of the week. It was yesterday. Yesterday, we went to Art. Yesterday is the day before today. (while pointing and moving your hand from today to yesterday) This day begins with the "wwww" sound. We hear that sound in words like window, week, and wild. Can you tell me what day yesterday was?
Math
So many math skills can be practiced here, but I tend to focus on the number of days we have been in school.  We use a small place value pocket chart. Each pipe cleaner represents one day we have been in school.  Once we reached our tenth day of school we bundle them together as a ten, using a rubber band, and place them in the tens pocket.
We sing a song:
"Oh, we need to add a straw, We need to add a straw. Hi-Ho the Dairy O, We need to add a straw. I am looking for one friend. I am looking for one friend. To count to the whole world how many straws we have." -Sung to the Tune of "The Farmer in the Dell"
I really take the time to discuss the ones, tens, and hundreds place with my kindergarten students. This will help them as they grow in their academic years to know place value. At the beginning of the year, I focus on teaching them that we have 17 (1 set of tens and 7 ones). I will say something like "The one is in the ten's place. That means I have one set of ten. The seven is in the one's place. That means I have seven ones." I spend several weeks saying this in multiple ways. Eventually, I will begin asking them questions like "What digit is in the tens place?" and "What digit is in the one's place?" "What is the value of the digit in the ten's place?" I can tell you that my kindergarten students can answer all of these questions at this point in the school year. I feel like they have a greater and deeper understanding of place value.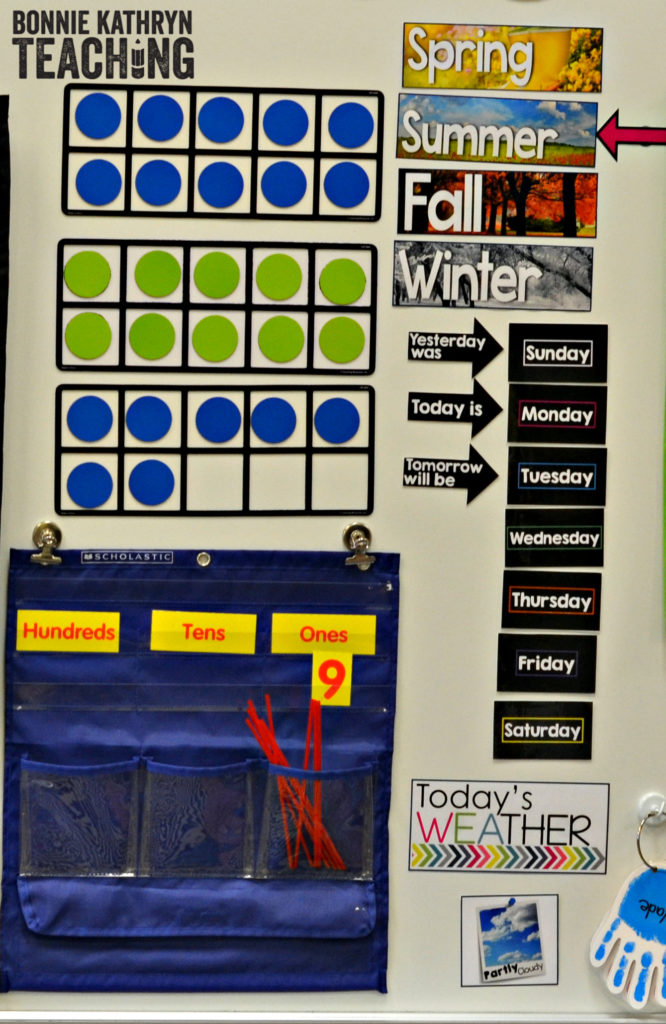 I display the date of the month using magnetic ten frames.  So, on the 19th of the month, I would fill in two ten frames to show 19. We then count them together using the strategies taught/discovered during class time.
Literacy
In this section of our time together I go over the letter names, sounds and formation depending on what time of the year it is.  I also include our sight words being taught. I like to include a wide variety of letter and sight word poem or songs in here.
Schedule
Whether you use picture cards or just have your schedule written out on the board, this is a great time to discuss your schedule for the day.  Especially if there are any changes to the schedule such as picture day or a special assembly. This is a perfect opportunity to use ordinal number practice or when teaching before and after.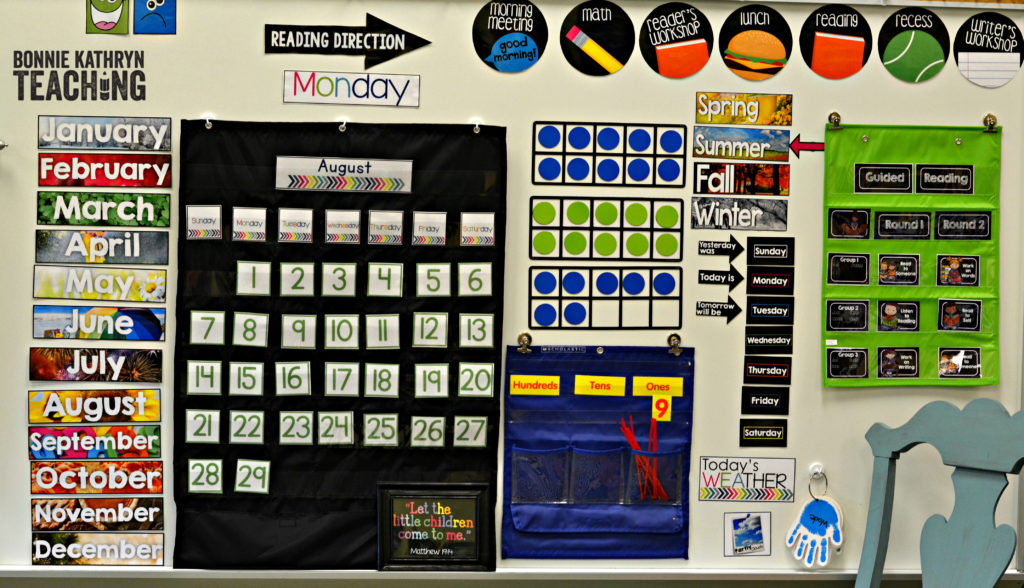 Now that I have shared the basic components of your calendar time, you need to know the two factors that I think can make or break calendar time in a classroom; the calendar time display and the presentation during that time prepared by the teacher.  
Let me explain…
There many "calendar time sets" out there that can be purchased to be used as Calendar Time.  I do not believe you can buy one of these sets, take it back to your classroom, put it on the wall, and ta-da now you have calendar time.   Many of these sets contain great resources, but you have to select the parts of the set that support your instruction and curriculum the most. Use only those pieces in your calendar display.  You will also need to add other resources to your calendar time display in order to meet the needs of your students.
The presentation done during calendar time needs to be well prepared and organized.  Again you can not put up a calendar time set you bought at your local teacher store (or online), chant through all of the components and expect your students to be excited for calendar time every morning (let alone walk away with any valuable information).  It is up to you to make it engaging and fun. 
REMEMBER: You set the tone.
I do this by playing games, singing songs, and involving my students in the activities.
I use an interactive app called Sway by Microsoft Office to engage my students during calendar time.
Sway allows me to pull in YouTube videos that I use every day. I draw and drop them into Sway and each day I can use my Epson interactive projector to click on videos. I have found that advertisements that play before YouTube videos will not play when the video is imported through Sway. If you have a block on YouTube you can upload the videos that you use directly to the app.
If you don't mind using the same videos I use, you can use this link for your classroom.
What are some tips and tricks you use in your classroom calendar time to make this time beneficial to your students?
Some of you may want to know where I purchased the components of my calendar time. Here is a list of links for your convenience.
*This post contains affiliate links.